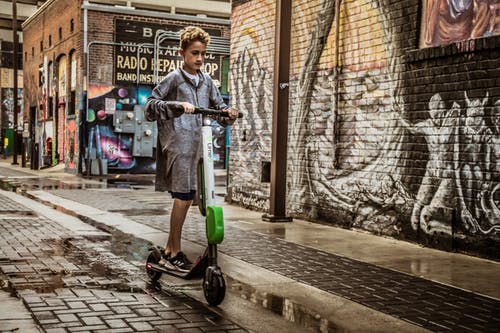 Governor Polis recently signed into law Colorado's Vulnerable Road User.  It's essentially "careless driving on steroids" that carries strict new punishments.  If there is an accident with what is defined as "serious bodily injury", the alleged violator is subject to stiff new penalties including 12 points against a driver's license, the possibility of up to 1 year in jail, up to 320 community service hours, restitution for current and future medical expenses, and a mandatory suspended license.  Needless to say, the stakes are very high under this new law.
Although the new law applies statewide, it seems to be especially impactful to traffic in downtown Denver.  When driving through downtown Denver, a driver must be extremely aware of his/her surroundings and account for all of the other drivers and riders on and off the road.  When driving through downtown Denver, a driver can be inundated with the task of not colliding with electric motorized scooters riders, skateboarders, walkers, joggers, rollerbladers, gas moped riders, motorcyclists, hoverboard riders, electric bicyclists, other automobile drivers, and this seemingly never-ending list goes on and on.
The drafters of this new Vulnerable Road User law attempted to incorporate this never ending list of roadway users.  Accordingly, the following persons are defined as "vulnerable road users" if they are lawfully using a public right-of-way, crosswalk, or shoulder of the roadway: motorcyclists, scooter riders, moped riders, roller skaters, inline skaters, skateboarders, sled riders, farm equipment riders, animal-drawn wheeled vehicle users, off-highway vehicle riders, electric personal assistive mobility device users, wheelchair users, baby stroller users, pull wagon users (non motorized), farm tractor riders or users of other vehicles designed for farm use, bicyclists, tricyclists, electrical assisted bicyclists, or users of other-pedal powered vehicles, pedestrians, peace officers outside his/her vehicle performing the peace officer's duties in a right-of-way, persons riding or leading an animal.
The existing careless driving law is incorporated by reference in the new Vulnerable Road User law.  Thus, if a person drives a motor vehicle, bicycle, electric scooter, low powered scooter, or electrical assisted bicycle in a careless and imprudent manner without due regard for the width, grade, curves, corners, traffic, and use of the streets and highways and all other attendant circumstances, he/she is guilty of careless driving.  Thus under the Vulnearble Road User Law, one has to be guilty of careless driving plus serious bodily injury.
So, if you've been charged under this new law, what's your defense?
The possible defenses depend upon the circumstances and evidence in each case. Some examples may include whether or not the prosecutor can prove serious bodily injury.  Perhaps the defendant's driving wasn't careless. Maybe the "Vulnerable Road User" wasn't lawfully using the public right of way, crosswalk, or shoulder.  Perhaps the defendant's actions were not the proximate cause of serious bodily injury.
What's serious bodily injury?  According to the statute, serious bodily injury includes a substantial risk of death, a substantial risk of serious permanent disfigurement, or a substantial risk of protracted loss or impairment of the function of any part or organ of the body, or breaks, fractures, or burns of the second or third degree.
If a driver is convicted of Vulnerable Road User, restitution attaches.  This means that a driver can potentially be liable for pecuniary expenses not covered by automobile insurance.  Restitution awards accrue interest if not paid in full when ordered.  Restitution can also include the cost of future medical expenses.
Because the Vulnerable Road User charge is a 12-point Class 1 Misdemeanor Criminal Traffic Offense, a driver is subject to a mandatory driver's license suspension and up to 1 year in jail.
If you've been charged with violating Colorado's Vulnerable Road User law it's critical to have experienced counsel on your side to defend against this very serious charge.  Colorado Vulnerable Road User Attorney Monte Robbins has experience in defending against the Vulnerable Road User charge.  Contact Colorado Vulnerable Road User Lawyer Monte Robbins today to discuss your case: 303-355-5148.