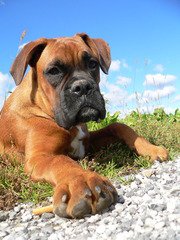 A recent Colorado Court of Appeals case involving Kilo the drug sniffing dog held that a dog's alert alone does not establish the Probable Cause necessary to conduct the search of a vehicle occupied by individuals 21 years of age or older.
Under Amendment 64 of the Colorado Constitution, it is legal for people who are 21 years of age or older to possess up to 1 ounce of Marijuana for personal use.  This amendment went into effect in 2012.
In the case involving Moffat County's Kilo the drug sniffing dog, a truck was parked in an alleyway and thereafter pulled in front of a house and parked for 15 minutes.  The house that the truck had parked in front of had been searched 7 weeks previously and illegal drugs were found.  When the truck drove away, cops pulled it over because the driver allegedly didn't use his turn signal.
Upon contact, the cops claim to have recognized the passenger in the truck as a user of Meth.  The cops subsequently turned Kilo loose on the truck and then received an "alert" indicating that drugs were present.  It's important to note that Kilo is trained to detect Meth, Weed, Ecstasy, Cocaine, and Heroin.  Kilo's alert means that he detected one of the aforementioned substances but it's unknown which one or what quantity.  Thus, the alert is simply a generalized alert.
The cops then ordered the occupants out of the truck and searched it.  While searching, the cops found a Meth pipe and charged the driver with possession of the pipe and of a controlled substance.
Previous Colorado cases have held that reasonable suspicion is required prior to a dog sniff search of the exterior of a vehicle.  In other words, the police must have specific and articulable facts to support their belief that the person stopped is involved with or may have been involved with criminal activity.  In determining whether reasonable suspicion exists, courts will look at the totality of the circumstances, the specific and articulable facts, and the rational inferences from those facts.
The driver of the truck attempted to suppress the evidence found in his truck by arguing that Kilo's sniff of his truck was not supported by reasonable suspicion and that the search of his truck's contents was not supported by probable cause.
Kilo's alert indicated that he had detected either an illegal or legal substance.  Since the legalization of Marijuana, a K-9's alert alone no longer establishes probable cause if the K-9 was trained to detect various drugs including Marijuana.
The result may be different if a K-9 is not trained to detect Marijuana or the occupants of the vehicle are not at least 21 years of age.